A Dog's 🐶 Day in the Bay Area!
May 24, 2021 by Rumana Jabeen
WHO LET THE DOGS OUT? If you did, please keep them out and in public because we love those cute little furry creatures.

Many of you know how much I love pets. Our puppy (80 lbs) went with us just about everywhere, while the cat ruled the roost. My earliest brochures included pictures with my full family (husband, dog and cat). While we don't have our pets with us any more, I remain an animal lover and supporter. One of my favorite charities is Humane Society. I donate to both to the American Society for Prevention of Cruelty to Animals (ASPCA) and Humane Society International (HSI). Rest assured, pets will be in our future, but for now, I am always happy to see them out and about with you. No need to apologize if they come up to me; I always enjoy giving your friendly waggers a head rub and a back scratch.


But if there's one thing I can't stand, it's that sad look in your little buddy's eyes every time you have to leave them at home, so I'm posting this guide on dog-friendly spots and activities for you and your pup (or pups) to enjoy!

 _______________


THE GREAT OUTDOORS
 


Mission Dolores Park/ San Francisco
Our local neighborhood park is the perfect place to take your doggo where they'll be free to run around the grassy hills of Dolo. With so many dogs around, they'll be sure to make friends! We've seen our fair share of dog birthday parties here so if you need an idea on what to do for your BFF's birthday, this is it. Dogs in party hats? We ship it.
Golden Gate Park / San Francisco
With 1,017 acres, this park will be an adventure all around. You do have to keep your pup on a leash but there are also 4 designated off-leash areas: The Southeast section between Lincoln Way, King Drive and 2nd and 7th AvenuesThe Northeast section at Stanyan and Grove StreetsThe Southcentral area between King Drive, Middle Drive, and 34th and 38th AvenuesThe fenced training area at 38th Ave. and Fulton (which just got a $2.4M makeover!)



Baker Beach / San Francisco
Let your dog run free at one of the prettiest beaches in SF. At Baker Beach, you and your furry friend can indulge in a beautiful view of the Golden Gate Bridge and enjoy the sand in between your toes and paws. Just make sure you bring a spare towel/blanket for the little guy if they choose to take a dip in the ocean because the water can get COLD.
Redwood Regional Parks / Oakland
If you're looking for a cool hike where your pup can be off-leash, this is the spot for you. With forest vibes and fresh air all around, it'll definitely feel like you're away from the busy city. With all the different trails offered, you can switch it up. Also, the redwood trees offer tons of shade, so it'll keep the little champ cool in that fur coat.



Albany Bulb / Albany
Now this place is funky but fun. Hike around Albany Bulb while also witnessing the crazy sculptures the place has to offer. Once you're done hiking, pop a squat at the beach where you can soak in a nice view of SF and Oakland. It's a smaller beach, so if you let your dog run free, no need to worry about them going too far!
Black Diamond Regional Mines / Antioch
If you're looking for a spot in the East Bay, Black Diamond Mines is a great hike for you and your pup to conquer. With all the hills and trails, it'll have both of you guys tired by the end of it all. This area could get really dry and hot during the summertime, so we suggest planning ahead with packing extra water. Tip: Spring is the best time to hike Black Diamond because the post-rainy season leaves the entire area lush and green!
Almaden Quicksilver County Park / San Jose
If you want to get away from the city, this park is great offers great seclusion. The park has over 37 trails to choose from and we love options. However, this is a park where you have to keep your pup on a leash at all times and it's understandable because this park is HUGE!

_______________


RESTAURANTS + BARS



Zazie / Cole Valley, SF
Alright, so Zazie isn't just dog-friendly – they actually reward you for bringing your beastie bestie out! On Monday nights, bring your dogs to Zazie's back patio for "Dog Night" and enjoy $10 off any bottle of wine while Fido dines on complimentary treats. Not a bad deal, eh? Stop by for No Corkage Tuesday next!
The Homestead / The Mission, SF
If you're looking for a Victorian-style bar with true old-fashioned drinks + peanuts, this is the place for you and your furry friend. The bar is dog-friendly so sit down and enjoy a cold one.
El Rio Bar and Restaurant / The Mission, SF
No need to store your furry friend under the table at this spot. El Rio has a patio that'll definitely give your dog enough wiggle room and the option to choose who they sit by at the table.
Outerlands / Outer Sunset, SF
Outerlands is where it's at 365 days a year. Before or after a long day at Ocean Beach, grab brunch or dinner at this pup-friendly restaurant. Right in front of the beach, you and your dog can sit out at the patio and indulge in some grub accompanied by a stunning view.



Drake's Dealership / Oakland
Another patio where you can have fun, food, and beer! Here you can keep your dog right by your side and soak in all the sun. Not to mention they have over 30 beers on tap and delicious pizzas to soak it all up.
The Trappist / Oakland
This local pub is great for tossing back a couple of beers with a rotating tap that services both the front and back bar. They also serve food, meaning this one-stop-shop is perfect for an inclusive meal. Bring your dog along and spend some time outside in their backyard.
Left Bank Brasserie / San Jose
French food and French bulldogs. What could be more perfect? Get an authentic Paris experience at the gated patio after a long day of shopping and unwind with a glass of wine and a tall glass of water for your furry companion.
Lagunitas Brewing Company / Petaluma
Aside from sitting in the patio area where you can enjoy some live music, you're also allowed to take your dog on beer tours. We're pretty sure with a logo as cute as theirs, they can't resist turning away any furry friend.

Also, check out:
Waterdog Tavern (Belmont)
City Pub (Redwood City)
Thee Parkside (Portrero Hill, SF)
Standard Deviant (Mission, SF)
The Bar on Dolores (Mission, SF)
Fieldwork Brewing (Berkeley, San Mateo, San Ramon, Napa, Corte Madera)
Homeroom (Oakland)
Mad Oak (Oakland)
Lagunitas Brewing (Petaluma)
Smiley's Saloon (Bolinas)
Waterdog Tavern (Belmont)
City Pub (Redwood City)
7 Mile House (San Jose)
Bittersweet Bistro (Aptos) — They have a Doggie Menu!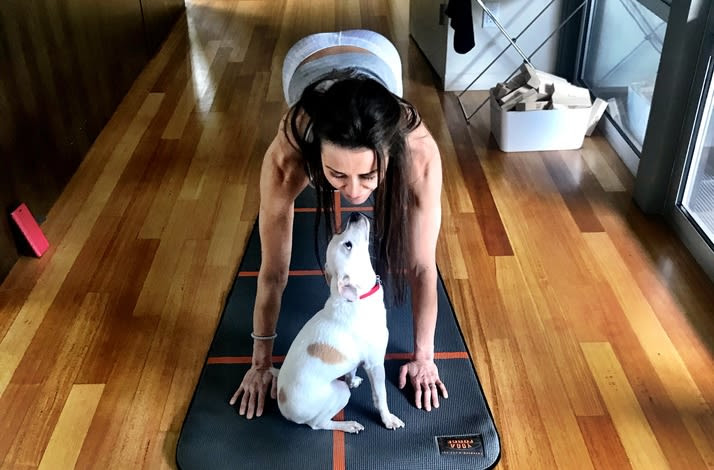 Doga / YogaForce, Burlingame
Your dog is probably a PRO at downward-dog, so let them show off their skills at Doga. Here you and your furry friend can bond while doing yoga. Although they're not really doing yoga, they're there for the emotional support which, hey, we all could use a little more of.

Wineries / Napa
Wine country is a great place to just relax and have some fun, and we know you'd love it if your pup can join in on all of it. There are a couple of dog-friendly vineyards and here's our certified list:
Honig Vineyard & Winery,
Tres Sabores,
Pine Ridge Vineyards,
HALL Wines,
V. Sattui Winery,
Odette Estate,
Frenchie Winery at Raymond Vineyards, and
Frog's Leap Winery.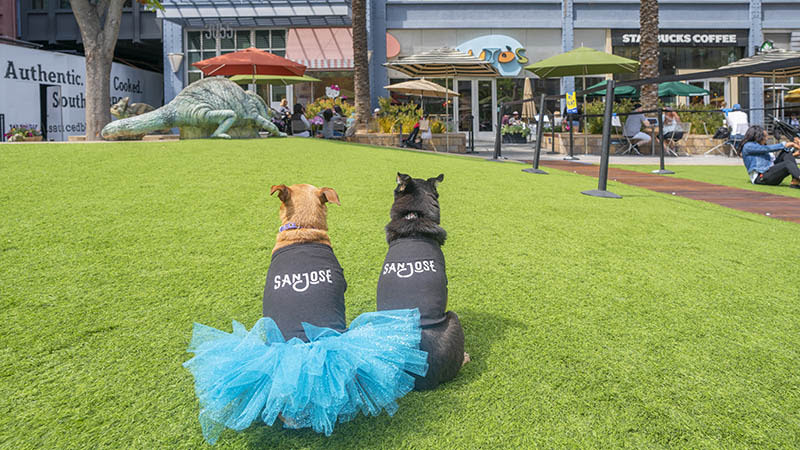 Santana Row / San Jose
Santana Row is an outdoor mall that is 100% dog-friendly. This area cares so much about dogs, you could find water bowls outside almost every store. Most of the restaurants have outdoor patios where your pup can sit as well. Tip: head into Lululemon for a treat (and probably tons of affection from the employees).


DogFriendly, Dogs Bay Area, lifestyle


Categorized in: Lifestyle, Rumana Jabeen Real Estate

This post was written by Rumana Jabeen